The true value of your IT service desk can be measured by the productivity it returns to your people and the customers it helps you retain.
A good support team should come to the table with a baseline of excellence. But what if you want to go beyond the baseline?
Whether you need to demonstrate a higher ROI for your stakeholders or simply want to make sure your service desk is providing the best service it possibly can, here are four ways to deliver more value from your IT service desk.
Minimize Your Complexities



When users reach out to the service desk, it's usually because something's gone wrong.
If the process of getting help is overly difficult and complex — if it just adds to their current frustrations — they're much less likely to try. Whether a system is overly restrictive about the way users are allowed to request help, or users are greeted with a complex multilevel menu system that stymies any effort to use it, when the experience is bad, it will yield bad results.
Instead, try to put yourself in your users' position and understand how they're feeling as you shape the service desk experience. That empathy will go a long way.
Be Clear and Consistent
As some enterprises move toward automated processes, it's important to communicate clearly with your users. For example, if you plan to implement automated password reset tools, make sure you provide a simple step-by-step process to your users so they know how it works.
Your service desk should also provide reinforcement. That means not just providing clarity, but consistency as well. A user should receive the same answer to a question no matter who they speak to. One way to help better equip your service desk is to create a knowledge base they can refer to when providing users support.
Remember, as an IT leader, you're responsible to the parties on both ends of the call. Your approach should be empathetic to your users while providing the right resources to your service desk support. To that end, simplicity, clarity, and consistency are always appreciated.
Establish Consistent Reporting
As a leader, you depend on facts and data to make your decisions. Your own leaders and stakeholders will likewise benefit when you're able to show clear and consistent metrics that demonstrate success.
Tracking and reporting out detailed, quantitative metrics of your team's performance consistently each week, month, quarter, etc., will help show the value that your IT service desk brings to the organization. Your measurement plan should include metrics like:
Resource Utilization
Response and Wait Times
Having this data can be beneficial in other ways, too. As you collect more information about the performance of your service desk team, you can use it to drive changes within your organization. Maybe you build out new resources or change the way users are trained. For your own team, maybe you reevaluate your SLAs or work with an outside partner to ensure they're financially sound.
New to the world of data measurement?
Gathering data isn't hard. Knowing which data to gather — and how to turn those data points into a clear picture of where you need to aim your efforts? That's a little trickier … and it's where a great outsourcing partner can really shine. Not only can they help you make sense of your metrics, but they can also provide expertise shaped by other companies that have gone through what you're experiencing now. They can be an invaluable resource to help you avoid the mistakes that others have made.

Run Your IT Service Desk Like a Business



Every business, large or small, shares a goal of decreasing operational costs while improving overall efficiency. Yet this must also be balanced against the needs of the customer. If you cut costs to such an extent that it negatively impacts the people you serve, it's clearly not the right outcome.
The same balance must be struck with your IT service desk. You want to find ways to streamline your operations and decrease the cost-per-ticket while improving resolution rates. At the same time, you never want your users to feel frustrated, confused, or like their concerns haven't been met.
One way to keep your service desk moving in the right direction is to commit to a program of continuous improvement. This requires monitoring your operations to identify what's working well, what could be improved, and what processes are necessary to ensure problems can be fixed as they arise.
Of course, implementing this program, let alone making the changes, can take a considerable amount of time, energy and resources. If you're already feeling spread too thin, or if your team is struggling to keep up with service requests, some of this may sound a bit out of reach.
Fortunately, there's a solution.

Invest in a Service Desk Outsourcing Partner



Outsourcing your service desk can be a very effective way to accomplish all the things we've listed here so far.
With a great outsourced help desk partner, you can improve your service desk's answer times, increase your service desk's rate of resolution, reduce your cost-per-ticket and free up higher-tier resources to focus on critical business systems and projects.

It can also greatly improve overall customer satisfaction, not only for the service desk function, but also for your entire IT department.
According to the chart below, published by MetricNet and based on their own data, 84% of respondents cited the service desk as the largest driver and a very important factor in their overall satisfaction with corporate IT (nearly twice the next closest factor).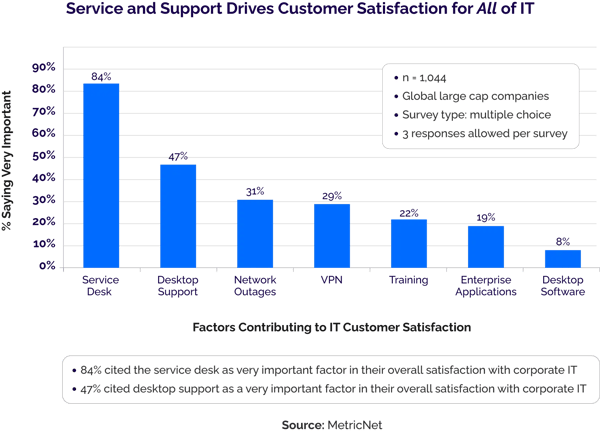 Click the chart for a larger version
A partner who understands that, and who will treat your users with empathy, can help drive your success. They should share your goals of improving efficiency and streamlining costs without losing sight of the people you serve. In this way, outsourcing your service desk can have significant benefits for both your capabilities and overall efficiency — great news for any organization.
Do you need a service desk that delivers more value for your organization? Schedule a complimentary consultation with our team today.