Let's go out on a limb here and say that you prefer it when your employees do their work.
Unfortunately, it's surprisingly common for companies to pay employees to be nonproductive. After all, when IT issues prevent your workers from doing their jobs, there's not much choice.
Employee downtime can be caused by anything from a forgotten password to a complete power outage. And while many companies accept that some downtime is inevitable, few have reckoned what nonproductivity truly costs.
Our help desk support cost calculator will give you that answer by helping you uncover the full cost of employee downtime. But brace yourself: The cost might be much higher than you think.
How to Calculate Your Help Desk Costs — and Drill Down into Downtime
Our cost calculator is designed for deep detail. It can tell you whether you're under- or overstaffed, determine your annual help desk costs, and run a full cost analysis on all your information technology support.
In this article, we'll focus on the question of downtime. What does it cost your company when employees can't do their work due to technology issues?
Here's a step-by-step guide on how you can answer that question with our calculator.
Step 1: Start With the Basics About Your Company and Resolution Rates
For the purposes of this demonstration, we're going to assume you have a thousand employees working at a single location.
The numbers you see throughout these examples will reflect that assumption. When you try the calculator for yourself, of course you'll use your own data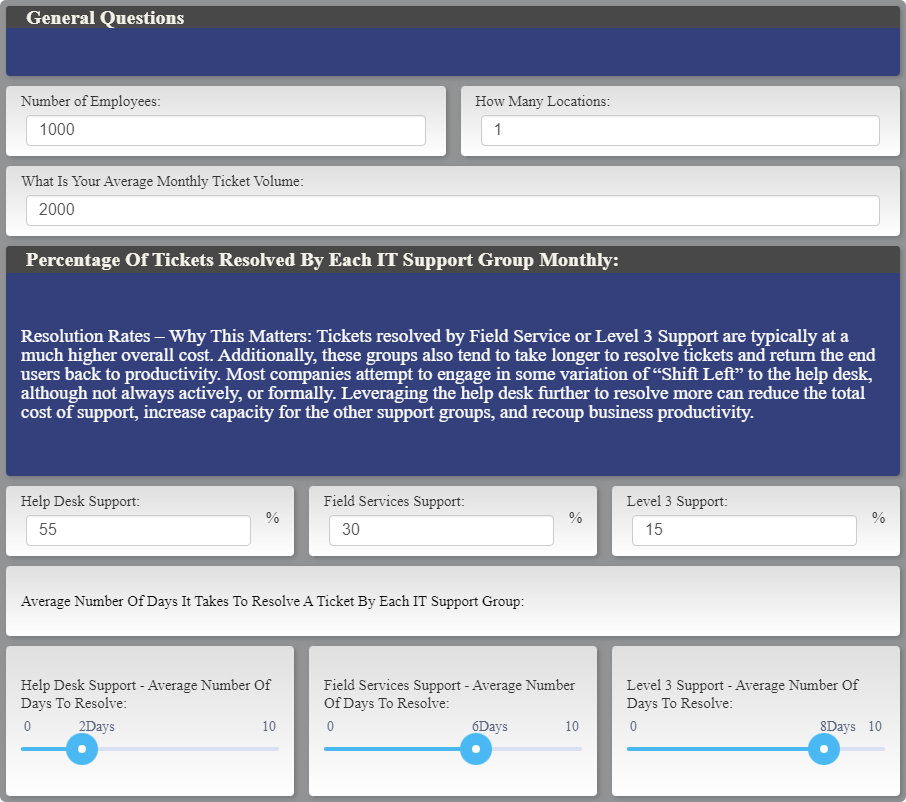 The first two sections of the calculator ask for some basic information about your company, monthly ticket volume, and resolution rates. This data is important in calculating the overall ticket costs, which increase as tickets are escalated.
If you don't have exact figures, it's okay to use an estimate. But for true accuracy, you'll want your data to be as solid as possible.
Step 2: Plug in Your Data on Staffing and Salaries
The next sections of the calculator ask for information on your help desk agents, field service support, and level 3 support agents.
This includes data on salaries, how many staff you have in each department, and how much time your field service and level 3 support spend resolving issues each day. Again, try to be as exact as you can, so you generate more accurate results.
Let's review how these sections might look once completed with our hypothetical data: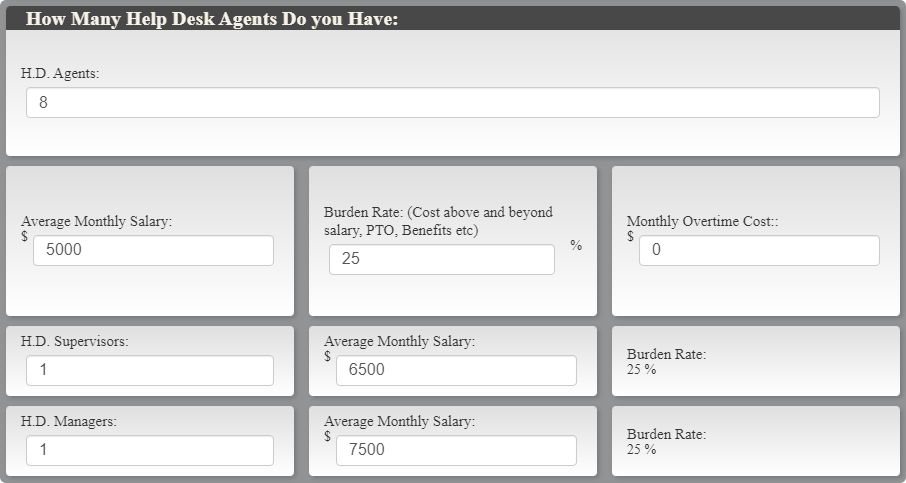 Help desk staffing and salaries. Here we've assumed a burden rate of 25%.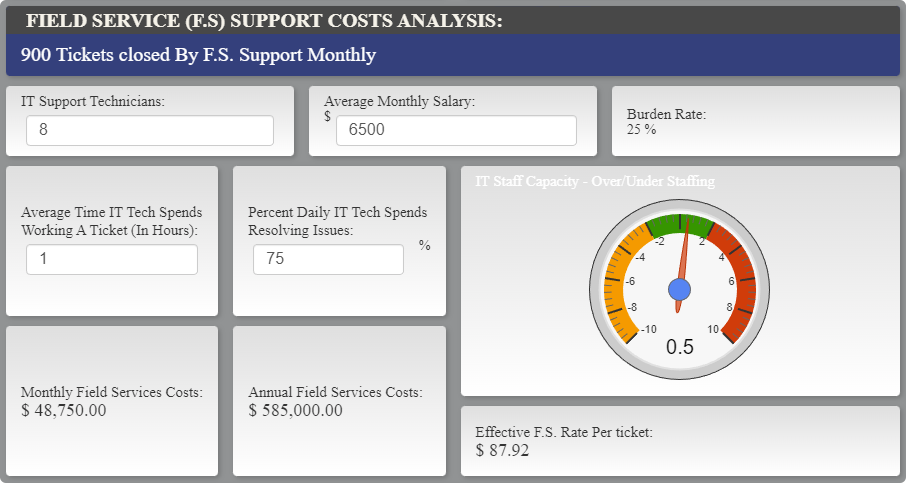 Field service staffing, salaries, and ticket resolution data. Note the gauge, which indicates whether your field service is understaffed, correctly staffed, or overstaffed.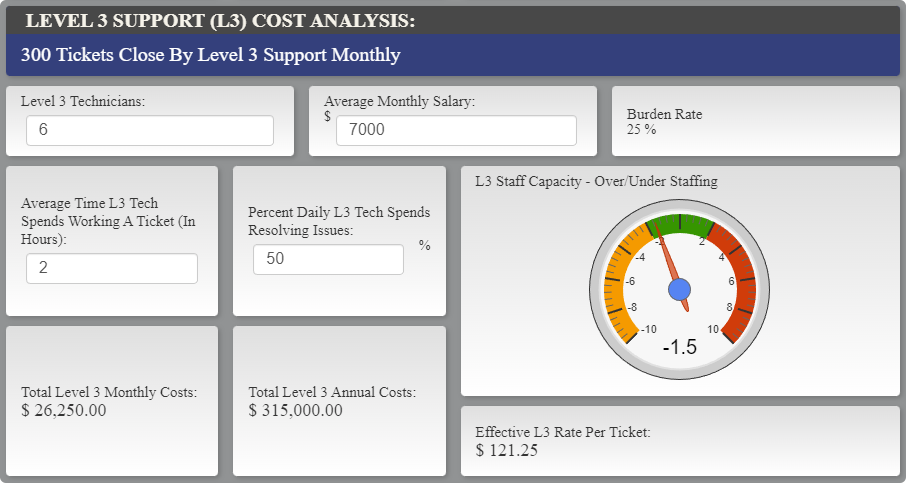 Level 3 support staffing, salaries, and ticket resolution data. Note the gauge, which indicates whether your level 3 support is understaffed, correctly staffed, or overstaffed.
Step 3: Set Productivity Impact, and Enter Employee Salary
Okay, we're getting close to the end! In this section, you'll enter the last few pieces of data to quantify the true costs of your employee downtime.
This slider allows you to estimate the potential productivity loss as a percentage of an employee's daily work. This can be a tough number to calculate alone, but a little research here can help. For example, Forrester's IT Friction Index estimates that employees average a 10% daily productivity loss due to IT issues and user errors.
Adjust the slider as you see fit. For the purposes of this demonstration, let's assume a more conservative 4% loss.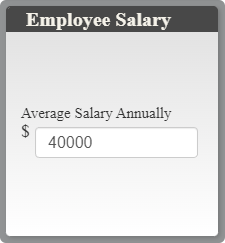 Finally, enter the average annual salary of your employees. This will help the calculator define exactly how much money is spent on nonproductive time.
Once you've entered all the data, the final section will reveal your results. It should look something like this: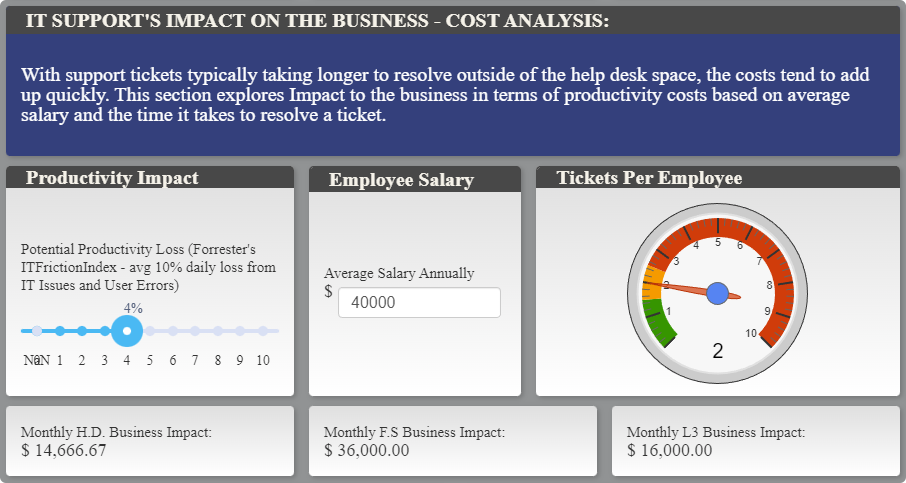 There at the bottom, in plain black and white, are your monthly and annual business productivity impacts.
Even assuming a modest 4% daily loss in productivity, our hypothetical company is losing nearly $70,000 every month due to IT issues, and more than three quarters of a million dollars every year.
Ready to find out your numbers? Try the help desk support cost calculator for yourself, and discover what downtime is costing your company.
Why Outsourcing Your Help Desk Reduces the Costs of Employee Downtime
Downtime isn't just a frustrating experience for your users—it's also incredibly expensive for your company. Fortunately, there's a proven method for cutting that cost.
Outsourcing your help desk services allows you to benefit from the investments providers have already made. In order to meet their guaranteed monthly service desk SLAs, outsourced help desk providers have already purchased redundant infrastructure to ensure that their systems keep running smoothly.
Those service level guarantees also mean your users get dependable help. Even if there's an unexpected surge in call volume, an outsourced provider can keep up with demand and minimize employee downtime.
Ultimately, this means your users enjoy a better experience even as your team enjoys major capacity gains. It also reduces the total cost of IT support, putting a little more back in your budget. When you choose an outsourced provider, everyone wins — especially your company's bottom line.