Tom Peters, author of the best-selling business book, In Search of Excellence, once remarked, "It never ceases to amaze me that companies spend millions to attract new customers and spend next to nothing to keep the ones they've got!"
What Peters observed about businesses in general applies to IT help desks in particular.
Shoddy customer service creates irate customers, damages your reputation, and reduces customer lifetime value. And since it always costs more to acquire a customer than it does to keep one, subpar help desk customer service can do major damage to your bottom line.
Fortunately, there are three high-impact things your organization can do to improve your help desk customer satisfaction.
1. Improve Your First-Call Resolution Rate
No other KPI has a bigger impact on customer satisfaction than your First-Call Resolution Rate. This metric gives you a balanced view (quality and cost) of your help desk's overall performance.
If your help desk is typical, your callers care less about how long they are on the call and much more about how many times they have to call. Research shows that callers want their issue resolved during the first call whenever possible.
Improving your First-Call Resolution Rate has immediate ROI: For every 1% improvement in First-Call Resolution Rate, you should expect to see a 1% improvement in customer satisfaction, according to research conducted by SQM.
Consider shifting left
One way to improve your First-Call Resolution Rate is to shift-left. Shift-left is a strategy that involves moving your IT support closer to your operational frontline, which means closer to your customers and users. Shift-left requires you to make changes to your people, process, and technology—with self-service, automation and knowledge management playing key roles.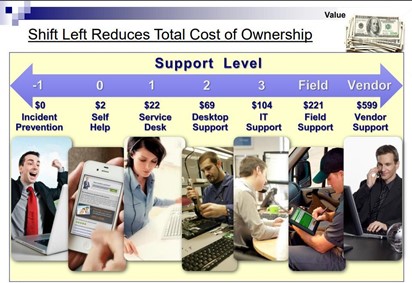 Source: MetricNet
As you can see from this image, shift-left gets its name from the marketplace reality that tech support issues grow increasingly more expensive to resolve the further they move along the spectrum of support levels. Preventing an issue (the left end of the spectrum) costs nothing per ticket since there are no tickets. But requiring a vendor to resolve a ticket (the far-right end of the spectrum) costs roughly $599 per ticket.
The goal of shift-left is to move as many tickets to the left as possible. There are a number of ways to do this:
Self-serve

: Offer more and better self-service options (such as chatbots) so your customers and users can resolve their issues on their own without calling your help desk.

Automation

: Automate your IT help desk and IT service management processes so incoming tickets are automatically categorized, prioritized, and assigned to the right person in your IT organization.

Knowledge management

: Create a robust library of articles and FAQs to boost self-service and reduce the number of tickets generated.
2. Improve User Experience by Setting Expectations and Improving Follow Up
After First-Call Resolution Rate, the next drivers of help desk customer satisfaction are expectations and follow up. If customers and users lack a clear understanding of what to expect after their call, and if there is poor (or no) follow up by the help desk, customer satisfaction suffers.
The answer is to set expectations during the first call and to follow up effectively. Here's how you do it:
Communicate next steps

during the first call so the caller knows what to expect next.

Discuss timing

with callers, so they have realistic expectations about how quickly their issue will be resolved.

Explain the escalation process

so callers aren't confused (or angry) about why their issue is not being resolved immediately, and so they understand the steps you are taking to resolve their issue.

Set expectations

so callers have a realistic picture of how their issue is going to eventually get resolved.

Keep the lines of communication open

while you are working to resolve the issue. The longer the issue takes, the more often you must communicate with your customer or user.
3. Conduct Regular SAT Surveys
The easiest and most accurate way to measure customer satisfaction is simply to ask your customers. The key, however, is to not cherry-pick. Whether a customer is irate, delighted, or somewhere in between, their feedback is valuable in helping you optimize the help desk customer experience.
A good strategy is to have a systematic way of gathering customer feedback after every call through automated surveys. But just as important is following up with customers and users who submit feedback, to glean as much insight as possible.
Another way to gather data on levels of customer satisfaction is to conduct focus groups with high-volume or repeat customers and users, as well as non-users. These focus groups are more expensive than automated surveys to organize and host, but the insights they uncover are often filled with depth and nuance, giving you valuable direction moving forward.
Better Help Desk = Better Customer Retention
Keeping an existing customer demands just as much skill as winning a new one – if not more. And the help desk experience can make, break, or even salvage the customer relationship.
By improving your First-Call Resolution Rate, setting expectations clearly and early, following up adequately, and conducting regular customer-satisfaction surveys, you will improve your help desk customer experience—and keep your customers longer.