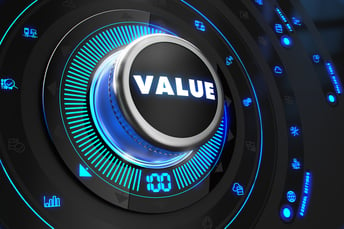 More and more enterprise organizations are becoming aware of how critical IT departments can be to an organization. As such, more and more IT teams are now working with the organization's senior leadership to discuss the company's IT strategy and technology direction. For any IT department leader, helping the organization better understand the value of its IT investment is imperative, but this is unfortunately easier said than done. Here are 5 ways for IT teams to help deliver more value to their organization.

1. Run Your IT Department Like a Business
Any business, large or small, always has a constant goal of decreasing running costs and improving efficiencies to save on time and money. You could introduce new capabilities into your organization more effectively if you were to run your IT department like a business. Gone are the days when IT departments were required to just maintain operations. Instead of just focusing on maintaining the status quo in terms of operations, it's important to understand that costs can also be shifted to innovation and digital transformation to improve the technology in the organization. It's also important for you to be able to identify where costs can be reduced, how operations can be streamlined, and how much ROI they are driving for the business.

2. Minimize Your Complexities
By 2020, only 20% of technology implementation efforts will come to fruition, and 80% of these failures will be attributed to complexity. Most people can agree that technology within an organization can sometimes be overly complex, and that is what can ultimately stall technology implementation efforts when new tools and systems are potentially being introduced. In an effort to cut costs, many enterprise organizations are moving towards automated processes, but if these processes are not efficient and don't show value, they will not be successful and can oftentimes increase the complexity of processes within the organization. At the end of the day, it's the responsibility of the IT team to successfully integrate modern technology into the workforce and culture in order to achieve increased productivity for the company with minimal complexity and internal disruption.
3. Consistent Reporting
Reporting out detailed, quantitative metrics of your IT team's performance consistently each week, month, quarter, etc. will help give the organization a better idea of the value that your IT team can deliver to the organization. Some of the most common metrics to report on are:
Customer Satisfaction Rating
Rate of Resolution
Response and Wait Times

New Incoming Support Tickets

Cost per Ticket

To learn more about these metrics, you can check out our top 5 key performance indicators to help track your team's performance.

4. Offer Development Opportunities
Giving team members the chance to increase their responsibilities or tackle new challenges not only helps them grow in their current role, but it also communicates to the team that there are opportunities to learn and advance within the organization. Giving these opportunities can help build trust, which can lead to improved performances and better productivity. By providing teams with the ability to take on new projects and add additional value, you are letting the leaders of the organization know that the IT department is not just looking for ways to maintain operations, but also for ways to grow and expand the internal technology stack and team to help grow the organization.

5. Invest in a Help Desk Outsourcing Partner
With the appropriate support of a help desk outsourcing partner, a business can greatly improve overall customer satisfaction not just for the help desk function but for all of their IT organization. According to statistics from MetricNet (see chart below), 84% of respondents cited the help desk as the largest driver and very important factor in their overall satisfaction with corporate IT. This was nearly twice the next closest factor. With the proper help desk outsourcing partner, you will be able to gain the trust of the client community and increase adaption and utilization of your support services. Outsourcing your help desk efforts has significant benefits such as time efficiency and improved capabilities that will prove its value from a cost-benefit standpoint.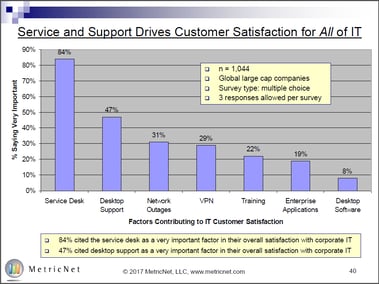 click the chart to see a larger version

Are you an IT department leader looking for more ways to bring value to your organization? Simply click here to speak to our team of help desk experts.