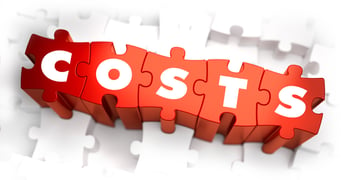 Are you under pressure to reduce the IT costs at your enterprise organization? As organizations try to find efficient ways to "tighten up" their department budgets, the good news is that there are many strategies to help reduce costs without harming the department or the overall organization. Which strategies you choose to use will vary depending on your situation and your short and long-term goals. Here are 3 ways to help you reduce the IT costs at your organization:
1. Virtualization
Virtualization is important especially in situations where data demands may change quickly and data access in real time may be critical to the business outcomes. Virtualization allows you to use virtual infrastructure instead of physical hardware, which will help reduce data center operating costs like storage, power, heating, cooling, and, above all, the ability to avoid downtimes. This will also help cut down on the high energy and hardware costs that physical servers can have on an organization.
Download our exclusive eBook to better understand the
four key aspects of help desk support ROI


2. Outsourcing
Even the best IT departments are only as effective as the resources and systems they use. Outsourcing your help desk efforts can be a huge undertaking that requires a lot of internal and external resources. With such an undertaking, an organization will not be able to go at it alone. With the appropriate support of a help desk outsourcing partner, an organization can assess its IT needs and literally map out its capabilities and what it needs to outsource. Outsourcing your help desk has significant benefits such as faster resolutions, reduced cost per resolution, and standardized service levels and processes.
3. Consolidation
Consolidating various IT solutions into one platform will enable you to save time and money and, at the same time, help your department and organization run smoother. The consolidation process will require significant effort in the early stages, but the numerous benefits that follow will outweigh this effort. Consolidation will help you reduce the number of solutions needed, which will significantly reduce your IT spending.
If you're looking to get a better understanding of the help desk costs that can impact your organization, we invite you try our free Help Desk Cost of Support ROI Calculator. You can also click here to speak to our team of help desk experts to see how you can reduce your help desk costs.