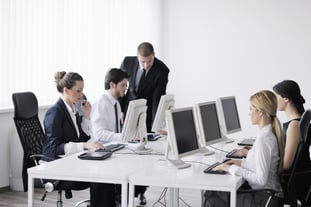 Scalability and being flexible to change are some of the most important benefits that an outsourced help desk partner can bring to an organization.
Background
One of our clients is a Fortune 100 financial services organization that provides retirement solutions to nearly 4 million active and retired employees in academic, research, medical, and cultural fields.
Challenge
As the firm continued to grow, it was concerned with scalability issues. They were also concerned with finding a trusted and reliable help desk partner that would be flexible and compatible with its current help desk ticketing system.
Solution
Our team was able to eliminate and overcome the organization's concerns by working within its existing ticketing system, and being able to scale with the organization as it grows. In addition, we properly staffed overnight and weekend coverage, thereby improving overall customer support operations. As with any help desk, call volumes can sometimes vary. Even though the volume of calls varied by day/week/month, we were able to successfully manage this variability while keeping queue times at a stable minimum.
Read the full success story to see how Global Help Desk Solutions, Inc. helped scale the financial services organization's help desk operations by providing:
- Guaranteed Service Levels
- Improved Flexibility with Existing Systems
- Thorough On-boarding Process & Collaboration
- Enhanced Technical Expertise
"Global Help Desk Services is the perfect match of customer service, technical strength and flexibility. It's very hard to find a vendor that does all three of these things well. Global Help Desk Services meets these criteria, which is key" - Senior Manager of Service Desk Production Services
Is your organization looking for a reliable help desk partner? Click here, or the button below, to read the full success story. You can also schedule a consultation with one of our help desk experts.

This is part two of our multi-part series featuring some of our help desk success stories across various industries. Subscribe to our blog to stay updated on more help desk success stories.