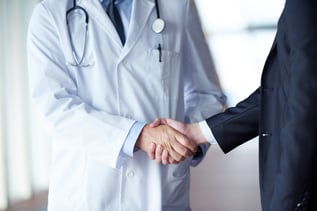 Did you know that 75% of hospitals are outsourcing IT functions? (Source: Medsphere) One of our clients is a pediatric hospital, and when we initially spoke with them, they were looking for a help desk provider that could deliver significant cost savings in the long term, but also develop a deep knowledge base of their operations and systems to deliver a seamless experience for the outside caller.
These are two of the most common requests we see from hospitals that are looking to outsource their help desk because they are seeing clear challenges with their budget, as well as the overall speed and delivery of their internal teams.
There were several factors that led to Global Help Desk Services (GHDSI) being an ideal fit as a help desk outsourcing partner, but it was ultimately GHDSI's day-to-day responsiveness and dedication to service that led to the partnership. Five successful years later, the hospital believes that outsourcing its help desk operations to Global Help Desk Services has been a beneficial decision in more ways than one, and the partnership has been transformed from valuable to priceless.
Read the full success story to see how GHDSI helped to streamline the hospital's help desk operations and provide cost savings including:

- Significant Return on Investment (ROI)
- Improved Communication to Streamline Processes
- Increased Day-to-Day Responsiveness
- Improved Internal & External Customer Satisfaction

"Global Help Desk takes initiative when they see a trend and alert us, which goes miles in helping to assist our users and ensure they have the resources they need. That open communication has helped us to provide a great customer experience" - Hospital's Manager of IT Support Services.
Is your hospital looking to its reduce costs while still providing the best experience to its patients? Click here, or the button below, to download the full success story. You can also schedule a consultation with one of our help desk experts.

This is part one of our multi-part series featuring some of our help desk success stories across various industries. Subscribe to our blog to stay updated on more help desk success stories in the coming weeks!