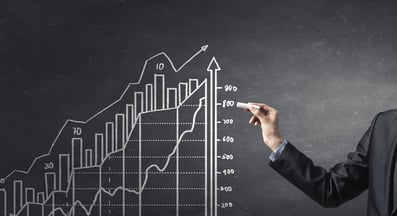 Today's business environment demands more from an IT department than ever before. No longer is it enough to simply purchase the tools, connect them to networks and re-set passwords. These days, it's all about providing value. Your IT department is as valuable as the value of your business, and this department plays a crucial role in solving problems, making key decisions and improving overall customer satisfaction. Thus, one of your primary responsibilities as a technology leader should be to constantly look for ways to help improve the value of your IT department within the organization.
But how, as a technology leader, can you effectively improve the value of your IT department? Here are 3 ways to help you get started:

1. Focus on Aligning With the Organization's Needs and Expectations
One of the easiest ways to improve your IT department's value is to make sure you are properly aligned with the organization's needs and expectations. And one of the best ways to determine if you are aligned is to come up with agreed upon expectations, or key performance indicators (KPIs). KPIs are the most important measurable outcomes that indicate the success and failure of your department. If you're looking for a little help, you can check out our list of 5 KPIs to help measure your IT department's performance. Once you have these agreed upon KPIs in place, it's important to make sure you are reporting out detailed, quantitative metrics consistently each week, month, quarter, etc. This will help you determine if the department's performance is aligning with the organization's needs or if you need to make any changes to the department, whether they be large to small, to make sure you are achieving these expectations.

2. Focus on Help Desk Outsourcing
With the appropriate support of a help desk outsourcing partner, a business can greatly improve overall customer satisfaction not just for the help desk function but for all of their IT organization. According to statistics from MetricNet (see chart below), 84% of respondents cited the help desk as the largest driver and very important factor in their overall satisfaction with corporate IT. This was nearly twice the next closest factor. With the proper help desk outsourcing partner, you will be able to gain the trust of the client community and increase adaption and utilization of your support services. Outsourcing your help desk efforts has significant benefits such as time efficiency and improved capabilities that will prove its value from a cost-benefit standpoint.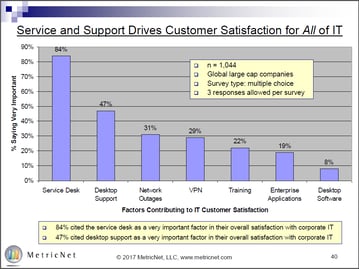 Click the chart for a larger version

3. Focus on Your Tangible Value and In-Use Value
Your IT department can show value at two specific levels: tangible value such as providing easy-to-use technology (i.e. hardware and software), as well as in-use value such as processes, efficiencies and responsiveness.
Tangible Value: Technology within an organization can sometimes be overly complex, and that is what can ultimately stall technology implementation efforts when new tools and systems are being introduced. At the end of the day, it's the responsibility of the IT team to successfully integrate modern technology, as well as making that technology easy-to-use throughout the organization. It is important to achieve increased productivity with minimal complexity and internal disruption.
In-Use Value: By implementing and communicating predictable, repeatable processes, the IT department can help the organization run like a well-oiled machine. With these processes in place, teams throughout the organization will be able to improve their efficiencies, which will allow them to do their job faster and with greater ease. This will also allow them to focus more on important tasks that have a greater impact on growing the bottom line. The IT department should also be able to predict, prevent and quickly respond to serious problems that can lead to catastrophic failures and extended downtime. This will also allow the organization to become more efficient and productive, which can result in significant financial savings for the organization in the future.

Are you a technology leader looking for ways to improve the value of your IT department in your organization? Simply click here to speak to our team of help desk experts.