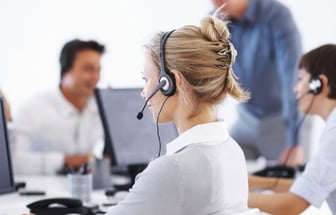 This is part one of our 2-part series on the 10 advantages of hiring an outsourced help desk partner. We will be covering the first 5 advantages in this blog and be sure to subscribe, if you aren't already, so that you receive part 2 in the coming weeks.
One of the most important goals of an IT department is to help the organization create meaningful business value through better customer support, and one of the best ways the IT department can achieve this is through outsourcing its help desk operations. Not only does an outsourced help desk partner help streamline processes and communication, they also keep the department more organized with detailed records of all submitted issues. There are many ways an outsourced help desk partner can make an organization more efficient and more productive, so it's no wonder why outsourcing help desk operations is becoming more and more popular among IT departments. Here are 5 advantages of hiring an outsourced help desk partner:
1. Extended Coverage
An outsourced help desk partner can offer support 24 hours a day, 7 days a week, which gives you the peace of mind that there is always somebody available to help your customers. If you only have an internal team, it will be harder for you to leverage that team to handle requests "after hours" or during weekends and holidays. This can have negative implications for your team, both internally and externally, if customers are looking for support and they aren't receiving it in a timely manner.
2. Scalability
Is your organization looking to grow, but you don't have the IT team and resources in place to effectively handle this growth? An outsourced help desk partner will help you scale your help desk operations by taking care of tasks like recruiting, interviewing, selecting, hiring, setting up desks and purchasing hardware and software so that you can focus on the more important tasks that are critical to the business.
Download our exclusive eBook to better understand the
four key aspects of help desk support ROI


3. Knowledge and Experience
An outsourced help desk partner will bring a wealth of knowledge and experience and will make sure you have the right staff and technology in place to be successful. An outsourced help desk partner will also have experience with the following: setting up your phone system, setting up your service request ticketing system, streamlining your processes, defining your service levels, creating your customer satisfaction surveys, creating your key performance indicators (KPIs) and training your help desk team.

4. Guaranteed Service Levels
An outsourced help desk partner will have guaranteed service levels in place to help make sure that you are staying on track to achieve your help desk goals. This is important because without guaranteed service levels, or inconsistent service levels, the customers you support won't know what to expect when they engage with your help desk, which can negatively impact your customer satisfaction ratings, your productivity and ultimately bottom line.
5. Cost Effective
The reason for outsourcing, other than to improve processes and efficiencies, is to also improve the bottom line. An organization's fixed costs are minimized substantially by hiring an outsourced help desk partner, and partnering with an outsourced help desk team is far less expensive than hiring, retention and benefit costs associated with full-time employees. In addition, the costs and resources that are freed up by using an outsourced partner can then be used on more strategic areas of the organization.


Are you looking to hire an outsourced help desk partner that can bring these types of advantages to your organization? Simply click here to speak to our team of help desk experts.