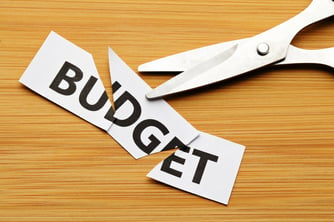 As organizations try to find more efficient ways to reduce their IT department budgets, the good news is that there are many strategies to help reduce your costs without negatively affecting your department or the overall organization. The strategies you choose will vary depending on your situation and your goals, both short and long-term, but the following are 5 ways to help reduce your IT costs while improving output and overall value to the organization.

1. Shift Left
Employee wages are a big part of IT budgets. As such, you want to get the most efficient use of your IT staff's skillset. It doesn't make sense to have a Cisco engineer answering calls regarding basic PC problems or resetting passwords. By shifting ("shift left") more resolutions from your Tier 2 or Tier 3 groups to the help desk, your cost per resolution goes down and you free up more time for your higher paid resources. In some cases, you can also reduce staffing. Shift left requires each of your resolver groups to identify frequently asked questions that can easily be documented in a Knowledge Base (KB) handled and resolved by the help desk. If you don't have the help desk staff, tools, or expertise to pull this off, help desk outsourcing may be the way to go.

2. Outsourcing
It's important to ensure you find a great help desk outsourcing team that is not only affordable, but can also find ways to make your processes as cost effective as possible. The reason for outsourcing, other than to improve processes and efficiencies, is to also improve the bottom line. However, if the help desk outsourcing team you hire handles processes incorrectly, the whole idea of cost-saving can be lost. Usually, most organizations outsource their help desk support to free up resources that can be used on more strategic areas of the organization.

Download the eBook - Help Desk ROI: It's Not Just Financial


3. Virtualization
Virtualization is important especially in situations where data demands may change quickly and data access in real time may be critical to the business outcomes. Virtualization allows you to use virtual infrastructure instead of physical hardware, which will help reduce data center operating costs like storage, power, heating, cooling, and, above all, the ability to avoid downtimes. This will also help cut down on the high energy and hardware costs that physical servers can have on an organization.

4. Consolidation
Consolidating various IT solutions into one platform will enable you to save time and money and, at the same time, help your department and organization run smoother. The consolidation process will require significant effort in the early stages, but the numerous benefits that follow will outweigh this effort. Consolidation will help you reduce the number of solutions needed, which will significantly reduce your IT spending.

5. Standardization
This is a form of a business process improvement that can help maintain compatibility. It can also significantly contribute to IT cost optimization. Standardizing your platforms could be as simple as providing all employees with the same type of computer or operating system. With everyone on the same page, nobody will question what application works on which platform. This is one of the key actions that can eliminate IT infrastructure costs and save money on training. Imagine if one employee spent their time trying to master each different computer or program. It would take an enormous amount of energy to learn each new platform. Furthermore, all other employees will be familiar with the same platforms and have an easier time resolving issues.

If you're looking to get a better understanding of the help desk costs that can impact your organization, we invite you to try our free Help Desk Cost of Support ROI Calculator. You can also click here to speak to schedule a consultation to see how you can reduce your help desk costs.