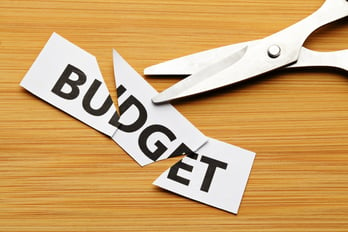 Are you under pressure to reduce the IT costs at your organization? Many IT departments are coming under pressure to reduce their costs, but the cost reduction targets they're given may seem impossible to meet. The good news is there are many strategies to help cut costs without harming the department or the overall company. Which strategies you choose to use will vary depending on the situation at your organization and your short and long-term goals. With that in mind, here are 6 strategies you can use to reduce the IT costs at your organization.
1. Personnel
Employee wages are a big part of IT budgets, which is why some organizations are reducing personnel costs to meet their budget targets. Controlling personnel costs can be challenging when your talent needs change from one quarter to the next. To help reduce personnel costs, you can turn to contract staffing. Contract staffing can help you maintain adequate staffing levels during slow periods, but can also fill in the gaps and help you manage higher-demand periods. When a new project approaches, a technical recruitment company can quickly find contractors for you, and when the project ends, you can let the contractors go. This flexibility can help you keep your personnel costs under control.
2. Technology
There are dozens of online systems and software programs that can automate several IT functions at your organization. In order to choose the right systems or programs for you, it's best to ask yourself the following questions:
What tasks can I do well?

What tasks do I find myself spending a

disproportionately large

amount of time on every week?
If I could take one of the most time-consuming tasks off my plate, what would it be?

Hopefully, your answers to these questions will give you a clear indication of the type of IT functions you may need to automate at your organization.
3. Software Maintenance
Software maintenance can get expensive. In fact, after five years, most companies will have spent more money on software maintenance than the software cost to purchase in the first place. For that reason, some organizations are performing less software maintenance to help reduce IT costs.
For example, instead of paying to upgrade existing software, you could decide to keep using the older versions. This could be a good strategy for you if your software isn't too old and still meets most of your needs. However, if the software is so old that it's obsolete, skipping maintenance could end up costing you more in the long run.
4. Virtualization
Virtualization is important especially in situations where data demands may change quickly and data access in real time may be critical to the business outcomes. This process involves physical hardware being replaced with virtual counterparts. The main advantage of virtualization is the ability to maximize the use of server resources, which means your organization would no longer need to depend on physical servers. This will help cut down on the high energy and hardware costs that physical servers can have on an organization.
5. Outsourcing
Even the best IT departments are only as effective as the resources and systems they use. Outsourcing your efforts can be a huge undertaking that requires a lot of internal and external resources. With such an undertaking, an organization will not be able to go at it alone. With the appropriate support of a help desk outsourcing partner, an organization can assess its IT needs and literally map out its capabilities and what it needs to outsource.Outsourcing your help desk has significant benefits such as faster resolutions, reduced cost per resolution, and standardized service levels and processes.
6. Consolidation
Consolidating various IT solutions into one platform will enable you to save time and money and, at the same time, help your department and organization run smoother. The consolidation process will require significant effort in the early stages, but the numerous benefits that follow will outweigh this effort. Consolidation will help you reduce the number of solutions needed, which will significantly reduce your IT spending.
If you're looking to get a better understanding of the help desk costs that can impact your organization, we invite you try our free Help Desk Cost of Support ROI Calculator. You can also click here to speak to our team of help desk experts to see how you can reduce your help desk costs.