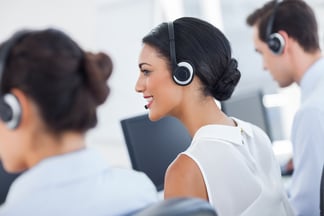 The business landscape is changing faster than ever before thanks to the power of technology and need to streamline. A lot of enterprise organizations are now outsourcing certain aspects of their operations to save time, money, and improve processes. It's estimated that by 2020, technical support outsourcing will grow by 6%, bringing in more than $135 billion a year in revenue. Among the support services projected to grow are help desk support and call centers which have the greatest impact on customer experience and satisfaction.
But do you and your company stand to benefit from the growth of help desk support services? You can only tell if your are using the right help desk support team. Despite the business world being full of these services, failure to properly select the right help desk support team can cause irreparable damage to your organization. Here are 6 things to consider when hiring a help desk support team:
1. Cost effectiveness
The reason for help desk outsourcing, other than to improve processes and efficiencies, is to also improve the bottom line. However, if the internal support team handles processes incorrectly, the whole idea of cost saving can be lost. Usually, most organizations outsource maintenance tasks like help desk support to free up capital that can be used on more strategic areas of the organization. It's important to ensure your outsourced help desk support team is affordable and can find ways to make your processes as cost effective as possible.
2. Quality of work
Help desk outsourcing should result in better quality service to your clients. Most outsourcing firms have access to technological advancements that ensure quality in addition to improving your manpower. It's important however to remember that if you hire a team without experience in the field and a proven score card, you will get no value for your money. Nonetheless, most help desk support teams will even give your workforce some training to improve service delivery.
3. Communication
When communication is limited, it impacts quality and results in unnecessarily long lead times for your customers. With that being said, cultural differences and time zone barriers should not be overlooked. It's important to find a help desk support team that can help with any foreign language requirements and can communicate with and support your employees and customers around the globe. Continuous communication is always at the heart of innovation and quality, which is why you should hire a help desk support team that you can easily communicate with.
4. Expertise
A good outsourced help desk support team should come with a lot of expertise and innovation. In an increasingly competitive business world, hiring the wrong team could mean missing out on key trends and opportunities that could help advance your organization. You'll want a team that focuses on continuous improvement and finding ways to shift more resolutions to the help desk which will result in faster resolutions and happier customers. Look for a team that is agile, able to adapt rapidly, and able to work closely with you, because there experience can be highly advantageous both in the short and long term.
5. Reputation
Your business lives and dies on its reputation, and for the customers you support, the help desk is often the face of IT and the business. With increased scrutiny from customers on social media, ensuring your standards are constantly maintained is imperative. This means taking your reputation into account when outsourcing. Is the team as reputable as yours? If it is, there will be no disconnect or backlash from your customers. Remember having to rebuild your reputation will be more costly than it would be to outsource.
6. Confidentiality
Your new outsourced help desk support team will be given access to certain customer data and company information, but do they have measures to ensure your confidentiality and security? It's good to assess the type and amount of information you share, but it's more important to assess the confidentiality of the support team you intend to hire.
Having the right help desk support team in place can help your team deliver value, and establish your team as an important and strategic player within your organization. If you put in the effort up front to do your homework and consider these 6 things, you can ensure that you're hiring the best help desk support team for your organization.
Are you looking to hire a help desk support team to help improve the processes and efficiencies in your organization? Simply click here to speak to our team of help desk experts.