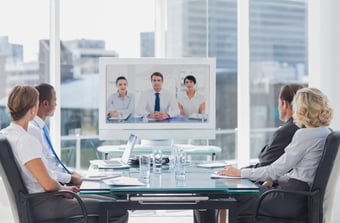 Members of the C-suite are becoming more and more aware of how critical information technology is to enterprise organizations. According to a recent JWC partners' survey, as it relates to information technology, C-suite leaders are the most concerned with the following: cyber security, digital disruption, and innovative technology advances.
As such, technology leaders are now making more appearances before the C-suite to discuss the company's IT strategy and technology direction. For any technology leader, delivering insight and intelligence to help C-suite leaders better understand the value for their IT investment and IT team is imperative, but this is unfortunately easier said than done. If you are looking to deliver value to the C-Suite at your organization, here are 5 tips to help you get started:
1. Minimize Complexities
By 2020, only 20% of technology implementation efforts will come to fruition. According to Gartner, 80% failure will be attributed to complexity. I think most people can agree that technology within an organization can sometimes be overly complex, and that is what can ultimately stall technology implementation efforts when new tools and systems are potentially being introduced. In an effort to cut costs, many organizations are moving towards automated processes, but if these processes are not efficient and don't show value, they will not be successful and can oftentimes increase the complexity of processes within the organization. At the end of the day, it's the responsibility of the IT leadership team to successfully integrate modern technology into the workforce and culture in order to achieve increased productivity for the company with minimal complexity and internal disruption.
2. Run the IT Department Like a Business
Any business, large or small, always has a constant goal of decreasing running costs and improving efficiencies to save on time and money. You can introduce new capabilities into your organizations if you were to run your department like a business. Gone are the days when IT departments were required to just maintain operations. Instead of just focusing on maintaining the status quo in terms of operations, it's important to understand that costs can also be shifted to innovation and digital transformation to improve the technology in an organization. It's also important for you to be able to identify where costs can be reduced, how operations can be streamlined, and how much ROI your are driving for the business.
3. Offer Development Opportunities

Giving team members the chance to increase their responsibilities or tackle new challenges not only helps them grow in their current role, but it also communicates to the team that there are opportunities to learn and advance within the organization. Giving these opportunities can help build trust, which can lead to improved performances and better productivity. By providing teams with the ability to take on new projects and add additional value, you are letting the leaders of the organization know that the IT department is not just looking for ways to maintain operations, but also for ways to grow and expand the internal technology stack and team to help grow the organization.

4. Invest in a Help Desk Outsourcing Partner
Even the best team is only as effective as the resources and systems they use. However, streamlining your help desk support efforts can be a huge undertaking that requires a lot of internal and external resources. With such an undertaking, an organization will not be able to go at it alone. With the appropriate support of a help desk outsourcing partner, a business can assess its IT needs and literally map out its capabilities and what it needs to outsource. Outsourcing your help desk efforts has significant benefits such as time efficiency and improved capabilities that will prove its value from a cost-benefit standpoint.
5. Consistent Reporting
Reporting out detailed, quantitative metrics of your IT performance consistently each week, month, quarter, etc. will help give the c-suite a better idea of the value that your team is delivering to the organization. Some of the most common metrics to report on are:
New incoming support tickets
Support tickets resolved
Response and wait times
Number of backlogs
Satisfaction ratings

These are just a few of the metrics to focus on, but its up to you as the leader of the IT department to determine what is important to share with the c-suite and what is important for your team's development and improvement.


Are you a technology leader looking for ways to bring value to the C-suite at your organization? Simply click here to speak to our team of help desk experts.