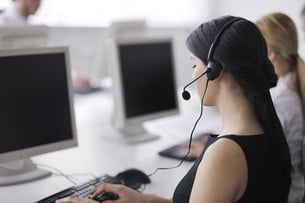 Help desk outsourcing has become a popular solution among enterprise organizations because of the benefits it can deliver. Smaller budgets, limited resources, increased competition, better customer experience and improved customer satisfaction are all factors forcing organizational leaders to look at outsourcing. Here are four reasons why help desk outsourcing is ideal for your enterprise organization.
1. Help desk outsourcing ensures predictable costs
With an outsourced help desk team, everything is very consistent and transparent, which makes budgeting a lot easier. Outsourcing will eliminate the need for real estate, equipment, hiring, training and management of your own help desk staff. In this way, you can measure business efficiency and success against what you are putting out. Being able to predict costs means your growth strategies can be supported without worrying about surprises that come about as a result of being inefficient.

2. Help desk outsourcing helps you focus on business critical tasks
A help desk is a critical function of any organization, but nonetheless not the primary function of most. So why not delegate it to experts whose primary function is offering help desk services? When you hire an outsourced help desk team that delivers what you need, they should get the job done in a more efficient and more affordable way. Resolving more at the help desk should free up your higher-level resources. allowing you to focus all your energy and freed up resources on your primary business activities.



3. Help desk outsourcing means better adaptation to change
With growth, acquisitions, rollouts, and unexpected interruptions, support volume can change quickly. With an internal help desk team, adapting to changes can mean investing in hardware, software, additional staff and training. And before you can even catch up, your efficiency will have suffered considerably. With an outsourced help desk team, however, you get faster access to increased capacity, proven processes, and all the latest tools and technologies to mitigate the impact to your service delivery. Being able to adapt to change translates into consistent efficiency, customer experience, and customer satisfaction.
4. Help desk outsourcing gives you skilled professionals who improve quality and reliability
One thing that makes help desk outsourcing so popular is having the expert knowledge and skill without the concern of extra headcount. These skilled professionals conform to required quality and standards with a focus on continuous improvement. Predictable, repeatable processes deliver reliable services to your clients. A quality outsourced help desk team will help you set up key performance indicators (KPIs) to ensure strategies are being delivered efficiently and on time.

Are you interested in seeing why help desk outsourcing is ideal for your enterprise organization? Simply click here to schedule a consultation with our team of help desk experts.