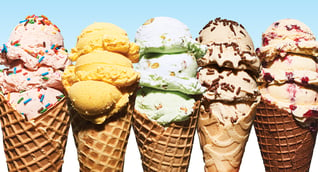 I recently stumbled upon a piece of career advice that gave me some serious pause. According to the author of the LinkedIn post, one should never work for a cost reduction company. There was a touch of cosmic irony not lost on me when I realized this was written by an HP retiree… Really? Pot calling the kettle black are we?
Now to be fair, the author began by acknowledging that you should never give advice that isn't asked for before, obviously, doing so. Personally, I wish they hadn't because I have ice cream waiting for me, and, instead of digging in, I sit here compelled to set the record straight for cost reduction and outsourcing organizations.
The Scoop On That "Gallon" Of Ice Cream
Speaking of… Can you remember the last time your half-gallon of ice cream was actually a half of a gallon, let alone NOT 40% air by volume? (Maybe you didn't know, it pains me to break the news…).
A while back the economy started to go in a direction that most of us weren't too happy with. As such, some of the ice cream producers among us had to make tough choices. With costs increasing left and right, they could either cut a few simple corners, keeping prices stable while still maintaining some level of margin, or pass the extra.
"French Vanilla" Is Not Vanilla Bean
When you hear the phrase "cost reduction" tossed around, what first comes to mind? Is it slashing budgets? Layoffs? Outsourcing? Printing on both sides of the paper? Less ice cream? This misconception serves to conjures DOOM and GLOOM scenarios.
Cost reduction is often used synonymously with budget cuts and other less favorable situations, and it doesn't need to be. Last time I checked, most companies are in business to provide valuable goods (like ice cream) and/or services (like outsourcing) to their customers equitably.
Cost Reduction: We All Scream for Equitability
When a company can bring cost reductions to bear, they are able to make the equitable part of the equation a bit easier. With the ice cream manufacturers, quantity had to be reduced to maintain prices or a little more air had to be injected into the mix to retain volume for the same price. All things can help maintain the ability to be equitable, and in turn, still offer valuable goods to the market.
Working with an outsourcing company does not have to be "scorched earth," and ice cream will make it better. So very often the word outsourcing creates a panic in an organization. That author mentioned earlier said, "The only possible sources of cost reduction are people, buildings, and paying suppliers less." And if you focus only on the expenses that's true. But that's not where the focus typically is or should be. A company can grow profits two ways: reducing costs, or increasing revenue by adding value, but only one creates real growth. And that is where the outsourcer should focus.
An outsourcer should be able to address the increase in productivity and be able to quantify it. If they can't, they may be the wrong partner. The focus of the outsourcer should be increasing the overall productivity of your company, without adding significant expense, that doesn't result in ROI. If an outsourcer can increase your productivity without adding expense, the areas with increased productivity can contribute more, lessening the burden on other parts of the business, giving the company some resource they can move to another part of the business that has a need.
An outsourcer should also have a culture of continuous improvement, and employee focus within their organization, and in yours as well. The outsourcer should be proactive before and during the engagement in suggesting how things could be done better. They should also approach each engagement with empathy. They should know that many are afraid of losing their jobs, or of change in general. Therefore, the outsourcer needs to cast a vision for the company to mitigate some of these concerns, and to even create a positive vibe within the organization.
3 Biggest Misconceptions of Outsourced Help Desks
When thinking of outsourcing, many images can be conjured. Let me help set the record straight. As a domestic help desk services provider, here are 3 of the biggest misconceptions of outsourced help desks:
1. The Sweatshop Myth: This one is a favorite. And of course completely untrue. As I wrote about earlier, good outsourcers seek a culture of continuous improvement. Happy employees are more productive employees. When they know their opinion matters, ideas flourish. The sweatshop model would not produce the results we seek.
2. Offshore Myth: Many believe that when outsourcers need to be productive, they will quickly seek the lowest cost model; the low-cost offshore locations. While I can't comment on those locations, other than to say low-cost seldom equals high quality. No disrespect to the many hard-working help desk workers across the globe.
3. Short Term Myth: Help Desk agents don't last long. It's thought that most agents will use this position as a springboard to another career, and their stop at the help desk will be short. While that is certainly true for some, it's not an epidemic. And it won't ever be if the outsourcer values the work, opinions, and ideas of their workers while creating a career path within the help desk. When this happens, employee turnover drops, and you gain a seasoned help desk. A help desk that can deliver immediate value and increase productivity to their clients.
It's very easy to take shots at outsourcers, and ice cream manufactures, without fully understanding the value they can bring. Without a focus on their staff and a customer's success, no outsourcer can add value. It must be a relationship based on the continued success of those with whom they provide services. It's not always about cost savings, it's about increasing value to the point where those costs can be used where they're most needed. In my case, it's in planning the next ice cream social we are going to have with our staff. It's the little things like those that make me appreciate working for an outsourcer.
Are you looking to hire a help desk support team to help improve the processes and efficiencies in your organization? Simply click here to speak to our team of help desk experts.