This is part four of our multi-part series featuring some of our help desk success stories across various industries.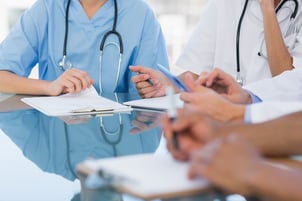 In today's healthcare environment, providers are challenged to deliver optimal patient care as quickly, and at the lowest cost possible. For the hospital, it becomes paramount to be able to answer questions and resolve technical issues efficiently and accurately, so that providers can return to patient care immediately. As a result, healthcare organizations are showing greater scrutiny than ever before when it comes to choosing a help desk partner.

Company Background:
One of our clients is an acute care community teaching hospital that is recognized for its reputation in providing excellent care, education and research. It also hosts one of the most advanced medical simulation training centers in the world, supplying access to the region's largest robotic surgery centers.
Challenge:
The hospital was looking to resolve its technical issues accurately and efficiently and to also transition all help desk services in house without any disruption of service.

Solution:
Global Help Desk Services was hired to help the hospital throughout the transition process to ensure performance standards were consistently met and the hospital's customers received no disruption of services.
Read the full success story to see how Global Help Desk Solutions' responsive customer service, strong knowledge base and efficient escalations helped the hospital achieve the following results:
- Calls answered in under 1 minute, 24 hours a day
- Abandoned calls less than 5%
- Help desk resolvable incidents above 85%
- Customer satisfaction above 90%

"Global Help Desk Services understands the way healthcare organizations work, they are very open and transparent and they've been very proactive with their communication. They are always at the table with us, and they are always looking for ways to improve their service for us. " - Hospital's Site CIO

Is your organization looking to hire an outsourced help desk partner? Click here, or the button below, to read the full help desk success story. You can also schedule a consultation with one of our help desk experts to get all of your questions answered about how to choose the right partner.