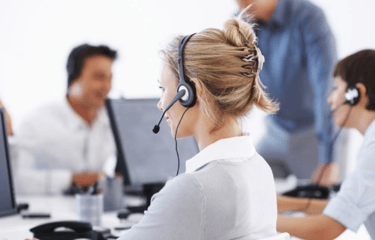 One of the most important goals of an IT department is to help the organization create meaningful business value through better customer support, and one of the best ways the IT department can achieve this is through outsourcing its services. Not only does an outsourced help desk team help streamline processes and communication, they also keep the department more organized with detailed records of all submitted issues. There are many ways a help desk outsourcing team can make an organization more efficient and more productive, so it's no wonder why outsourcing help desk services is considered one of the best IT practices that can benefit almost every organization. Here are 4 benefits that an outsourced help desk team can bring to your enterprise organization:
1. Enhanced Efficiencies
Every business desires to operate like a well-oiled machine. In other words, they want to hum along smoothly and effortlessly with every component doing its part. If you have to continually deal with slow-moving parts, breakdowns, or areas that start and stop, then you will not get all the work done that you need to get done. Not only does a help desk outsourcing team relieve your Tier 2 and Tier 3 teams by resolving more at the front-end, but it also serves as a centralized location for all your customer service communications. This allows all incoming activity to flow into one place. For example, if a customer calls or visits a website portal, they will be directed to the same service desk. If they send an email request or chat with an agent, the information is handled by the same service desk. This makes the workflow more efficient for both the customer and your support teams who won't need to retrieve tickets from multiple locations and disperse them.

2. Seamless Customer Experience
Customers want a seamless experience when they interact with your business. Customer service is the number one priority for many customers, and an outsourced help desk support team can help create a customer service experience that will be smooth and seamless. What does a seamless operation look like? Customers are met with a consistency wherever or however they contact the business, business response is uniform across all platforms, and business response time is predictable. This includes whether the service is handled by the help desk or escalated to another group. Also, whether customers contact a business from their phone, laptop, or tablet, the experience should always be the same. When all of these factors work together, it creates a seamless experience for your customers.

3. Boosted Productivity
When your employees are able to do their work without issues or problems, then productivity increases. By implementing many of the predictable, repeatable processes required by an outsourced help desk outsourcing team, employees get back to work faster and Tier 2 and Tier 3 support teams know what to expect when they receive tickets from the help desk, allowing them to do their job faster and with greater ease. Instead of spending hours sorting through information to see which tickets are the most important, a help desk team will prioritize them. This will allow Tier 2 and Tier 3 teams to focus on the more important tasks critical to the business. A qualified help desk outsourcing team can predict, prevent and quickly respond to serious issues that lead to catastrophic failures and extended downtime. This will allow you to streamline processes and make the team more efficient and productive.
4. Cost Savings
One thing that holds many enterprise organizations back from outsourcing its help desk services is the perceived concern around cost. An outsourced help desk support team, like many managed services, can actually help an organization save considerably, particularly when it comes to staffing, equipment and training expenses. Outsourcing your help desk services means that an expertly resourced team takes on this responsibility. In this way, your business can save time and money and need not worry about things like training, the necessary hardware and software, space for the help desk team or hiring new staff members to support it. We invite you to access our help desk cost of support ROI calculator to get a clearer picture of your current help desk costs and the financial impact help desk support can have on your organization.
Conclusion
There's always a part of support that will remain with your company to better understand customer needs and problems. However, most organizations are completely outsourcing their help desk services due to benefits like those listed above. There's also a sense of security in knowing that your business can still offer support to customers even when your main staff is not available. It's clear that an outsourced experienced help desk outsourcing team is better equipped at handling your customer problems and delivering satisfaction to them and you as well.

Are you looking to hire a help desk support team to help improve the processes and efficiencies in your organization? Simply click here to speak to our team of help desk experts.