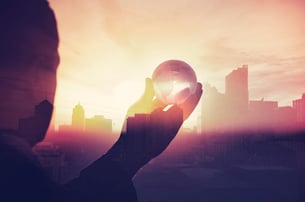 A message from Global Help Desk Services, Inc.'s President, Steve Wetherell
COVID-19 has highlighted differences in information technology workers' IQ and Emotional Intelligence (EQ). At Global Help Desk Services, Inc. (GHDSi), our hiring practices, while seeking technical expertise and IQ standards in our candidates, focuses heavily on EQ over IQ. Studies have determined that an employee's EQ determines their success by a factor of four-to-one over IQ. We believe this hiring process has proven to be the right method all these years, as service delivery during COVID- 19 required greater levels of empathy and emotional intelligence.
As COVID- 19 forced people to work from home, our clients needed to rely on IT service a great deal more than just quickly fixing an issue. Our people have had to service these clients, who are not only working from home, but navigating family challenges and heightened personal emotions. When I started GHDSi 19 years ago my vision has been to be the most trusted and reliable help desk service provider in the world. Our mission here at Global Help Desk Services is to provide a distinctly pleasant, efficient, and consistent help desk experience by applying the best in people, process, and technology.
COVID- 19 has allowed us as a help desk outsourcing provider to exhibit our predictable, repeatable processes using the latest in technology, but most of all to exhibit our agents' emotional maturity and customer service excellence. During these last few months we have received an incredible number of compliments from our clients sharing their IT service experience stories that we are incredibly proud of. We continue to understand that, it truly does matter who answers the phone. Here are a few customer testimonials that embrace the core values of GHDSi staff and our spirit of excellence.
"My superhero of the day"
I wanted to send an email to let you know that I just had an incredibly positive experience working with one of your help desk agents. My biggest pain point and reason for calling this morning was that a recent password reset didn't go as smoothly as it should have. He quickly and professionally diagnosed the issue, got into my laptop, and went to work. In no time that issue was resolved and he asked if there was anything else he could help with … and there definitely was!
I then shared with him that I had some questions about a migration that was scheduled for about a week or so ago. He listened and advised me to reach out to the tech that was scheduled to work on the Migration (which I will do) and walked me through how the migration should flow from there.
I then asked if I could ask about one more issue and he politely told me that he would be happy to help with that one as well. I shared with him that I recently upgraded my cell phone to a newer model and that my security token software on my new phone wasn't functional yet, and that I was having to get my login codes from my old cell phone. He quickly explained how we would be fixing this issue and then disabled the App on my old phone and sent me an email with instructions on importing my token to the new phone. He was still logged in to my machine and then accessed the e-mail he had sent and instructed me to click import on my app on the new phone where I then scanned the QR code image on my monitor. Just like that the security app and token was working on my new phone. He even helped me test it to make sure it was functional.
My apologies for the long dialogue, but I wanted to share my experience. In short it was incredible and the help desk agent was totally on top of everything I threw at him. In general, I always have good experiences dealing with our company's IT service desk – but today's experience was absolutely exceptional. I gave the agent a very hearty Thank You at the end of the call, but also wanted to let you know about my experience. If I were to receive a survey for my interaction with him today he would get 5 (of 5) in every single category! In working with the clients that I serve, I strive for excellence in every interaction that I have and very much appreciate positive feedback when it is received in the form or surveys and e-mails complimenting my work. Because of that I make a sincere effort to let others know when I have this kind of excellent experience and I definitely did today. Please know that the help desk agent completely made my day today with the kindness, professionalism, politeness, and efficiency he displayed in assisting me with all three of my issues. A++ Work and a job incredibly well done!! THANK YOU to him again, and to you, for the quality work displayed by one of your team members!
"Praise for the service team"
An employee who has been with our company for 22 years just said that the team at the service desk is the heartbeat of this organization. He said our response to the crisis has been seamless. Living in NY and describing the challenges there right now, he was very adamant that, we know, just how much the people who have been with our company for many years appreciate how vital we've been during this time.
"IT service commitment"
During these stressful times it is such a pleasure to come across someone that is willing to help and spend the time needed to resolve the issue. Thank you! Your commitment to all of us is AWESOME!
"We are in your debt"
Due to the COVID19 situation, I have been attempting to gain remote access. Multiple attempts in multiple locations yesterday failed, without any explanation.
Calling the Help Desk on Saturday morning, was the last thing I wanted to do! However, I wanted to call the Help Desk while I was able to be on the phone and work with the laptop simultaneously from a more secure environment such as home. In a prior role with the company, I worked remotely frequently, so I was puzzled why it was so problematic this time. The help desk agent was exceedingly patient, thorough, and knowledgeable as he walked me through the process step by step. He uncovered the reason it didn't work yesterday due to an incorrect security link and he corrected that situation. After that situation was resolved, I was able to proceed, with the agent's guidance, setting up a PIN, etc. and gaining VPN access.
Our company is in your debt. GHDSi, stay safe as you're dealing with the COVID19 situation and no doubt experiencing a flood of calls from those working remotely! Your support has helped keep our team member safe.
Please follow us on LinkedIn to see all of our great testimonials from our customers client community.
👍 You can also click here to speak to our team of help desk experts to see how you can reduce your help desk costs.