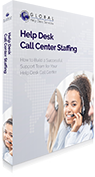 Do you want to know how to build a successful help desk?
A successful help desk starts with the right people. When your users experience technology issues, they depend on your help desk for support. But if you've hired the wrong people for your help desk, or you just don't have enough people in the first place, it can create problems that have a huge impact on your business.
That's why we've created an essential guide to building a help desk team. Get your copy to learn how you can:
Determine your IT help desk staffing levels.
Calculate how much a help desk will cost.
Hire and retain the right agents to provide support to your users.
For all this and more, complete the form and discover how to build a help desk that works!