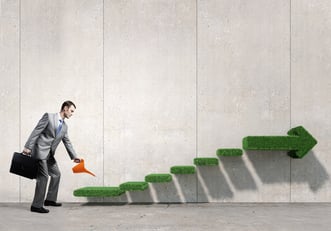 As a technology leader, helping your organization better understand the value of its IT investment is imperative, but we know this is easier said than done. Here are 4 ways to deliver and prove more value from your IT service desk.

1. Minimize Your Complexities
If you make it too difficult or complex for your users to use the service desk, they probably won't use it. Some examples include only allowing users to submit via email, or your service desk only logging the ticket and then escalating the ticket to Tier 2 anyway, or creating a complex multi-level menu system on your phone system that frustrates users. Simply understanding your audience and how they would like to access support goes a long way to reducing complexities.
Some enterprises are moving towards automated processes, like password reset tools. If you try to implement automated tools but don't communicate the simple step-by-step process to access the service, incentivize users to use the service, or reinforce the use of the service through the service desk, they won't use it.
At the end of the day, it's the responsibility of the IT leaders to: 1) understand how their users would most like to access services, 2) to understand their users are probably already frustrated when they reach out for help, and 3) to provide services and solutions that are easy to use increase productivity and minimize internal disruption.

2. Consistent Reporting
Tracking and reporting out detailed, quantitative metrics of your team's performance consistently each week, month, quarter, etc. will help show the value that your IT service desk can deliver to the organization. Some of the most common metrics to track and report on are:

To learn more about these metrics, you can check out our top 5 key performance indicators (KPIs) to help track your team's performance.


3. Run Your IT Service Desk Like a Business
Any business, large or small, should always have a constant goal of decreasing running costs and improving efficiencies to save on time and money. Instead of only focusing on maintaining the status quo of your operations, it's important to understand that costs can also be shifted to innovation and digital transformation to improve the technology in the organization. It's also important for you to be able to identify where costs can be reduced, how operations can be streamlined, and how your continuous improvement to move more resolutions from high tier, more expensive resources to the service desk is in the best interest of the company.

4. Invest in a Help Desk Outsourcing Partner
With an appropriate help desk outsourcing partner, you can improve your service desk's answer times, increase your service desk's rate of resolution, reduce your cost per ticket and free up your higher tier resources to focus on critical business systems and projects. A proper partnership with a help desk outsourcer will greatly improve overall customer satisfaction not only for the help desk function but for all of their IT department. According to the below chart from MetricNet, 84% of respondents cited the help desk as the largest driver and a very important factor in their overall satisfaction with corporate IT (nearly twice the next closest factor). With the proper help desk outsourcing partner, you will be able to gain the trust of the client community and increase adoption and utilization of your services. Outsourcing your help desk efforts also has significant benefits such as time efficiency and improved capabilities that will prove its value from a cost-benefit standpoint.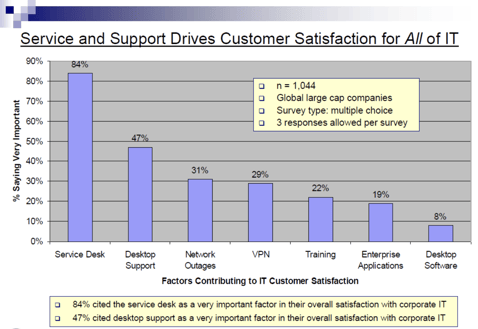 Click the chart for a larger version

Are you an IT department leader looking for ways to deliver more value to your organization? Click here to schedule your complimentary help desk consultation with our team today.